'From the comfort of your couch' is the mantra of the 21st century. From ordering food to clothes to even buying homes. Whether it is to avoid traffic or simply because your office allows you to work from home, creating a home office is becoming a norm. But when you work from home, it is very easy to lose focus from work and become unproductive. Staying at home and working from your bed is sure to sap your energy.
So if you're working from home, here are a few tips that you might find helpful.
Before you start getting excited about setting up your office, let's get into the psychology of it. Setting up a formal 'work space' brings a certain seriousness and even respect for the task at hand. Having separate work and relaxation zones help you compartmentalise your time better.
Get the basics right: Ask yourself a few questions before you start setting up
How often/long will you be working in the space?
Is it just for you or are you going to be hosting clients for meetings?
Will you be video conferencing often?
How noisy is the neighbourhood?
After you assess your answers to those, it's time to set up your space.
The space itself: While traditionally home offices are a separate room, in an urban setup it isn't always possible. In that case, pick a quiet corner and set up a desk and chair, to begin with. If you have a spare bedroom, or a guest room set up your office there. Ensure that your space isn't in front of the TV as it kills the vibe. Not just that, it makes the common space inaccessible to the rest of your family for at least a few hours every day.
Keep it cool:  If the nature of your job requires you to host clients, set up the office space to reflect the kind of work you do. Whether you're a writer or an IT Professional, pick the messaging right off the bat. Paint your walls with colours like green and purple to create a fun and creative space.
Get the ergonomics right: Spare no expense on the ergonomics for your space. Good ergonomics are underrated. Footrests, soft mouse pads that allow your wrists to rest, a good mouse that fits your palm are some of the comforts we never notice but really need. While bean bags look cool, they offer no support to your spine and in the long run directly impact your health. Get a comfortable chair that supports your back.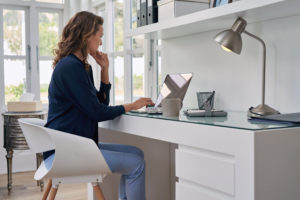 Make room to move around: Give yourself enough space to move around the room. Reduce your furniture if space is an issue. Arrange the furniture in a way that makes you feel more energized. Take tips from the 6000-year-old Chinese practice, Feng Shui, which applies spatial arrangement and balance for optimum design and layout. Place your desk in a 'commanding position'; have a strong backing placed behind you, like a solid wall or artwork, rather than an opening or a window. Make sure you feel like a leader in there.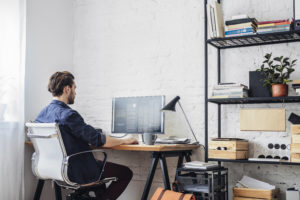 Stock up on equipment: Keep the equipment like printers, papers, note pads, pens basically anything you use regularly within reach. Keeping everything in one place will help establish a purpose for the space and reduce the time taken to do simple tasks.  Running all over your house vs calmly sitting at your desk, you take your pick!
Light it up:  One more important factor to consider is the lighting. Ideally, you would want as much natural daylight as possible. If that isn't enough, a combination of general and task lights would do the job. Dim lights can have negative psychological effects. So make sure you invest in good lights. Bonus points if you could control them from your desk.
There are so many ways to make your home office the perfect space. But one standing rule is to make it somewhere you want to spend your time in, look forward to working and being productive in. It should facilitate more focus and less distraction in a way that it will influence you positively and amplify the work you do there.
Hopefully, we've given you some serious tips on the kind of home office you should have. If you're still someone who needs to go to work at least a few days a week, choose a property like Vajram Esteva, Vajram Newtown or Vajram Tiara that are close to major IT parks and make working from office just as comfortable as working from home.
Let's get hustling.